Jen (Oregon, US) —
The Beginning
I found this blog that I started back in 2011 which got pushed aside after just a one entry so I thought I'd update it a little and continue, because SO MUCH has happened since then. I'm not a writer by any means, so please bare with me!
September 2010,
I noticed an area on my scalp that felt different. A raised area that felt like a mosquito bite that itched and tingled. I made an appointment right away to have it looked at by a dermatologist. I was really nervous at that appointment and scared I would here the word "cancer". The physician assistant took one look at it and said it was nothing to worry about… however she wasn't really sure what it was… some type of mole or birthmark? She called the Dermatologist in and he also looked and confirmed it was nothing to worry about. They even laughed a little when they saw how relieved I was. They made the comment "what did you think it was…. cancer?" I left relieved that day and pushed it out of my mind for three whole months.
December 2010,
The area on my scalp seemed to be getting slightly bigger…. and itched more… I felt like it just wasn't right. Something tells me to return to that dermatologist and have them biopsy and remove the spot. Still I'm not too concerned. After all, they had said it was NOT cancer….
Two days after my 26th birthday I get the call. She tells me it DID turn out to be Melanoma, and they were so surprised because it didn't look like it at all. They then sent me to a surgical Oncologist to have a consultation. I go to this appointment by myself. I still haven't told my family. I've always been the type to handle difficult situations on my own, and not depend on others. I was treating my cancer the same way, which looking back seems ridiculous. The Doctor tells me about statistics and percentages. We schedule a CT scan, brain MRI, PET scan and chest x-ray. Along with many blood labs. I leave his office crying. Two days later I hear that everything came back clear! I remember doing nothing but crying and praying for several days straight. This means as far as we can tell the cancer has not spread to any of my organs.
Check out the rest of Jen's story at her blog "Melanoma and Mimosas"… HERE 
---
---
Lisa (Toronto, Canada) —
To join Lisa's group… head to her Facebook page HERE
---
---
Francyn —
May 2016, I was diagnosed with Stage IV metastatic malignant melanoma. It is in my left groin and abdomen lymph nodes. Fortunately, it is not in my brain, bones, lungs, or other organs. Unfortunately, it is in lots of lymph nodes and is inoperable.
This is our way to share our journey of wellness through treatments, doctors' visits, challenges, and hopefully success. We are so glad that you are joining us on this journey to give us strength and encouragement. It means so much to us.
For more info on Francyn's story… find her CaringBridge page HERE
---
---
Joanna —
My prayer is that through this blog of my walk with cancer and through life, others will find HOPE in their struggles too. I'm learning more everyday and I pray that God has much more story to write with my life.  I want to faithfully live out my purpose here with every day left that I have been blessed with. I want the world to know all that God has done and is doing in and through me. So read ahead, give me grace, I am not a writer but faithfully sharing my story.
Let me share A little about me in case you are jumping right in to my blog without a start at the beginning. I'm a wife to my amazing husband Kevin, and mommy to my 4 littles that I love more than anything. I'm a daughter, sister, and friend. I was diagnosed with Metastatic malignant melanoma on August 7th 2014. I had 2 major surgeries and went through 8 plus months of weekly, rigorous, hard, treatment. I started this blog so that family and friends could walk with us on my cancer journey. It has become more than sharing just about our cancer walk, and more about my HOPE and where it's found. I never thought I would be this person to share about my life and how hard it is to face the days, but humbly here I am. I trust God has given me a story to share. Although time with a cancer survivor is on our side, fighting melanoma can look grim and hard. I have today and with it I will use the breath God gave me to glorify him, to share my story, and encourage others with HOPE.
For more info on Joanna's story… check out here blog HERE
---
---
Kate (Texas, US) —
So I have metastatic melanoma.  Which basically means it has spread. I'm not going to give everyone the run down on what melanoma is, if you got here, you can find google, so this is just my experience.  Lets go back…
About 3 years ago I had a spot on my back, which living in Houston, I assumed was a bug bite gone wrong.  My husband looked at it and said it was a funky spot.  So we scheduled physicals with our GP, just to have them done, and she ordered me across the street that day to have this funky spot removed.  A couple days later the doctor's office is blowing up my phone with messages and calling me at work.  When I finally called them back they told me I had been referred to a surgeon and have an appointment with him scheduled for early that next week.  We went into the surgeon's office and he said it was melanoma and needed to be removed, today.  I was pretty upset b/c this meant I couldn't compete in the tough mudder I had been training for.  I asked if we could reschedule it to the next week b/c my back would be loaded up with stitches and I wouldn't be able to participate.  He said "yeah, no." So that totally sucked, but he called back a few days later and said he got clean margins, we caught it early so no worries.  Yeah, you see where this is going, right?
Cut to current time, June 2014 I notice a lump under my arm.  I figure its just a blocked lymph node or some weird body thing.  Upon the urging of my husband, I called about 300 doctor's trying to get an appointment to be seen.  Most were out on vacation, not accepting new clients, or told me to just wait and see if it resolves on it's own after a couple of weeks.  I had the lump about a week when I started making calls, and I was calling new doctor's b/c I really didn't like my GP.  Anyways… I found a PA willing to see me, she sent me for an ultrasound, (came back weird) which lead to a fine needle biopsy (fine needle my ass), which lead to our first appointment at MD Anderson.  So after meeting with the treatment team, and having about 3000 various scans and blood work and every other test under the f'ing sun I was scheduled for surgery to have the funky lymph node removed.  Surgery was on July 7, 2014.  At that time per the scans, the plan was to remove all the lymph nodes from under my arm and then follow up with radiation.  ( I also got to wear a super fashionable drain for 3 weeks, it was so cool. No, no it wasn't.)
About a week after my surgery I developed a cough.  This is normal for people who have been laying around not doing anything but sleeping for a week, so doctor's not concerned.  I was told to take Robitussin and Musinex.  Well I did that for a week and no change.  So they added Tesselon Pearles.  Nothing.  So when I went to meet with the medical oncologist she ordered a chest x-ray, which lead to an MRI and CT scan, which lead to a lung biopsy, which lead to stage 4.  So really stage 4 is better than stage 3 b/c there are more approved medications.  So when I was in stage three my options were radiation followed by 12 weeks of biochemotherapy.  Which was 12 weeks off work I didn't have.  See even though I've been at my job for a while I didn't qualify for FMLA, b/c when we were no longer grant funded and the county agreed to make us a permanent fixture in the court it changed our status.  So we are considered "new" employees, and since I "haven't been employed with them for a year" I don't qualify for FMLA.
Now that I'm stage 4 though, I qualify for this medication that will reduce the tumors that are peppering my lungs within a week.  So I'm taking a combination of pills (5 total daily) and once they reach their therapeutic limit I will begin immuno therapy.  Not sure when that will happen, but hopefully a while from now.  The medications have pretty much stopped my cough, which is great, but they also cost $400 a month.  Not really looking forward to that, and it's even more frustrating that the medicaid cost is free.  I'd really appreciate it if they didn't put that on the package.  It seriously says that on the package "Medicaid cost $0.00."  It's basically taunting me with, hey dummy look at your price, that's right, hope you didn't run the air conditioning this month.
You can read more about Kate and her fight HERE
---
---
Bruce (California, US) 
On July 4th 2013 my mother in law noticed a mole on my back that looked a bit odd and told me to go get get it checked out. I went ahead and scheduled a appointment with my GP. He decided we should take it out so he did the procedure in his office that day. Two weeks later he got the results and in cam back as malignant Melanoma. Unfortunately I was not well informed of how this cancer worked and nether was he. He told me since the margins were clear I should be ok and did not follow up with it. Skip ahead to March of 2014 and a large lump appeared under my arm. I went to med stop, the the ER twice before finally being sent to a surgeon to remove a "cyst". Fortunately, this doctor knew exactly what was going on, and did a CT to confirm it was enlarged lymph nodes and likely related to the mole that was removed from my back. My PET CT showed that all of my lymph nodes in my upper left axila were involved and the cancer was very active. Fortunately it was contained to this area of my body. My surgery was about 1 hour after my PET scan and although they removed 22 lymph nodes they could not get the ones out near my clavicle due too the amount of nerves intertwined.  My cancer had not spread to distant parts part of my body like the brain or lungs, but since it had moved from the lower set of lymph nodes to the upper set, there was concern that it had metastasized. Since it was non-resectable I was classified as stage IV. I began radiation and Yervoy at the same time as a new approach to melanoma.  I finished my first round of Yervoy in July of 2014 and have had pretty amazing affects from it. I am told I am in the 10% of patients where the treatment not only stopped the tumor growth but shrunk them to an unmeasurable size at my 3 month scan. I am very early on in my battle but hopeful. I know if the Yervoy fails I have both BRAF and PD-1 inhibitors to go to.
For more on Bruce… check out his Team Bruce page HERE
---
---
Leanne (Manchester, UK)
In my last post I mentioned the fact that I have had skin cancer. At 25 years of age I was diagnosed with Malignant Melanoma, and whilst I wanted this post to be light-hearted (they have been quite deep of late – "bring back bird poo stories" I hear you cry!) I can't help but put this one out there. It's ultimately a huge part of who I am now so I need to explain it, not only to whoever is reading this but to myself.
I posted a quote the other day on my Instagram which was "write hard and clear about what hurts" – well skin cancer hurts. It doesn't just hurt you physically (even if that operation was a bitch) but it mentally scars you and leaves you open to a whole new kind of pain.
Lets get back to 2013. A couple of months before I was diagnosed I had started working out and eating healthier. I was on a get fit mission and I was completing the programme 'Insanity'. Funnily enough I was feeling good about myself and looking healthy. It was probably about April that I went to the GP for an ear infection. Whilst I was there I pointed out a small mole on my right arm. It was tiny but I had noticed it because I had felt a strange itchy, stinging sensation. She wasn't concerned but told me to come back in two weeks and the other GP would remove it there and then.
Two weeks passed and I didn't give it a second thought until I went to my appointment. I casually strolled into the surgery, headphones in and humming along to my music. I was in a great mood. The GP looked at the mole and rolled his eyes – "you do know this is going to scar if I remove it don't you?" he said. I replied "well, I'm here now, just take it off". Bossy as always.
In went the injection, out came the scalpel, he sliced into the mole and then he fell silent. He literally went from being fairly chatty to deathly quiet in an instant. He had a nurse and a student with him and they didn't say a word either. Thinking back I could sense the atmosphere in the room and I felt very uneasy.
He told the nurse to stitch the area and off he went, out of the room and to the reception desk. He didn't even say bye, how rude. I had a little joke with the nurse, told her that I had a mole removed years ago on my other arm and the GP had left me with blood dripping through the plaster and onto the floor. I said I walked through Ashton looking like I had lost a limb there was that much blood! She just stared at me. She literally just looked at me with these big, wide eyes and didn't say a word. I giggled to myself, turned around and walked out. I always laugh at my own jokes. I always laugh when I'm nervous.
I walked through the surgery and waved at the GP and the receptionist who were deep in conversation – "thanks! see you later!". Yep, I sure would.
Three days later I went to the Parklife festival. I still had the big white plaster on my arm and so I thought it best not to sit directly in the sun. How careful of me. I wasn't really that concerned until I took the plaster off that night and saw just how ugly it looked. It was a big incision and had about four stitches in it. It ached as well and a little voice in my head said "that isn't looking that good Leanne".
I started a new job the next day as an Examinations Marker for an exam board. On the Tuesday I got into work and within an hour I noticed I had a missed call on my mobile. The next thing that flashed up was a text from my Mum that read "Doctor phoned. You need to ring them back"
Shit.
I grabbed the phone and walked from the room, explaining to my team leader that I needed to make a call. I dialled the GP's number and the receptionist told me to come straight away. My answer? "Oh, but I'm at work, can it wait?"
She said it couldn't really and he needed me to get there asap.
For more about Leanne… click HERE
---
---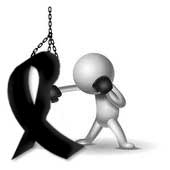 Want to share your cancer story?  You might be exactly what someone needs to be inspired or to feel less alone. Join the "MF-ers" (melanoma friends/fighters) page! Click HERE to go to my contact page!
Melanoma Friends/Cancer Fighters