When cancer strikes, life changes. You have to learn to live with a "new normal"… cancer's new normal.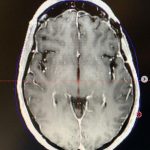 I get asked pretty regularly, "Do you ever feel like all of this is just not fair?". Mostly... no. I feel "changed", but not necessarily for the worse. I appreciate more of the little things that I used overlook in my busy day to day life. More importantly, I feel that I've been dealt an opportunity to better understand research and the complexities of cancers that go "unseen" by most. I'd like to help people understand how important science and research are, how "cancer" is NOT one disease, but how we can have similarities in our journeys, and how sometimes... good can arise from the bad.
As cancer patients and caregivers, you'll hear and read plenty of negative things. Sometimes the negativity is in the form of forced positivity! You don't have to be toxically positive. Cancer sucks. But it does help to see, hear, and understand, that people do make it through the rollercoaster ride. Some days you'll have to work harder than others to see the sunshine through the clouds, or find the good intent in a seemingly gruff well wish... but it's there. When life is upended, looking at it through new lenses... through cancer's new normal... you just might find, that you've got a lot more great little moments of joy than you used to see.
Looking for more info?
Whether you are seeking a place to learn more about your diagnosis, a place to find a comforting chat forum, or the latest in immunotherapy or medical news... you'll find a few sites here to seek helpful information and general overviews of the latest treatments, research and clinical trials.
Helpful Links
Hi! I'm Niki. I worked many years in radio as a morning dj. Along with regular fits of laughter, what I loved most about the job was the opportunity to meet so many people, and hopefully, impact lives in a positive way. As
Read more
A cancer diagnosis is incredibly stressful for patients and caregivers alike. You know what stress is horrible for? Your immune system. You know what makes cancer treatments more difficult? A weakened immune system. As patients we want to remain as
Read more
Closing out the year with a short and sweet update. Really, if there is no "Niki News", it's because things are going well enough for me to be busy with "normal people" life. For the quick snapshot, you can check
Read more