Stephanie (California, US) —
7 YEARS NED!!!
When you see me today, you would never guess I almost died. I wouldn't guess I almost died. Yet, I did almost die.
Fall of 2010 I was diagnosed with late stage cancer, stage IV melanoma cancer…. spread to my lungs, sacrum, and a large 16 cm tumor in my left armpit which was wrapped around my brachial plexus nerve. It was frightening and painful.  I had 5-8% chance of living 5 years.
Well, I am more than a number and more than odds given to me.  I often like to even forget it happened. But, I will ALWAYS have to be diligent in cancer checkups and due to the HIGH statistics for recurrences in melanoma, I can never not be concerned…
FOR TODAY, I AM ALIVE!!
Read all about Steph's experiences living with melanoma HERE
---
---
Lisa (Toronto, Canada) —
To join Lisa's group… head to her Facebook page HERE
---
---
Joanna —
My prayer is that through this blog of my walk with cancer and through life, others will find HOPE in their struggles too. I'm learning more everyday and I pray that God has much more story to write with my life.  I want to faithfully live out my purpose here with every day left that I have been blessed with. I want the world to know all that God has done and is doing in and through me. So read ahead, give me grace, I am not a writer but faithfully sharing my story.
Let me share A little about me in case you are jumping right in to my blog without a start at the beginning. I'm a wife to my amazing husband Kevin, and mommy to my 4 littles that I love more than anything. I'm a daughter, sister, and friend. I was diagnosed with Metastatic malignant melanoma on August 7th 2014. I had 2 major surgeries and went through 8 plus months of weekly, rigorous, hard, treatment. I started this blog so that family and friends could walk with us on my cancer journey. It has become more than sharing just about our cancer walk, and more about my HOPE and where it's found. I never thought I would be this person to share about my life and how hard it is to face the days, but humbly here I am. I trust God has given me a story to share. Although time with a cancer survivor is on our side, fighting melanoma can look grim and hard. I have today and with it I will use the breath God gave me to glorify him, to share my story, and encourage others with HOPE.
For more info on Joanna's story… check out here blog HERE
---
---
Bruce (California, US) 
On July 4th 2013 my mother in law noticed a mole on my back that looked a bit odd and told me to go get get it checked out. I went ahead and scheduled a appointment with my GP. He decided we should take it out so he did the procedure in his office that day. Two weeks later he got the results and in cam back as malignant Melanoma. Unfortunately I was not well informed of how this cancer worked and nether was he. He told me since the margins were clear I should be ok and did not follow up with it. Skip ahead to March of 2014 and a large lump appeared under my arm. I went to med stop, the the ER twice before finally being sent to a surgeon to remove a "cyst". Fortunately, this doctor knew exactly what was going on, and did a CT to confirm it was enlarged lymph nodes and likely related to the mole that was removed from my back. My PET CT showed that all of my lymph nodes in my upper left axila were involved and the cancer was very active. Fortunately it was contained to this area of my body. My surgery was about 1 hour after my PET scan and although they removed 22 lymph nodes they could not get the ones out near my clavicle due too the amount of nerves intertwined.  My cancer had not spread to distant parts part of my body like the brain or lungs, but since it had moved from the lower set of lymph nodes to the upper set, there was concern that it had metastasized. Since it was non-resectable I was classified as stage IV. I began radiation and Yervoy at the same time as a new approach to melanoma.  I finished my first round of Yervoy in July of 2014 and have had pretty amazing affects from it. I am told I am in the 10% of patients where the treatment not only stopped the tumor growth but shrunk them to an unmeasurable size at my 3 month scan. I am very early on in my battle but hopeful. I know if the Yervoy fails I have both BRAF and PD-1 inhibitors to go to.
For more on Bruce… check out his Team Bruce page HERE
---
---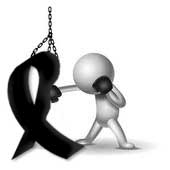 Want to share your cancer story?  You might be exactly what someone needs to be inspired or to feel less alone. Join the "MF-ers" (melanoma friends/fighters) page! Click HERE to go to my contact page!
Melanoma Friends/Cancer Fighters